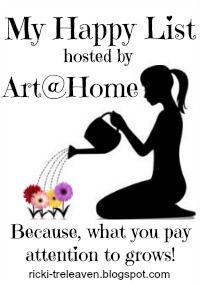 I'm linking up with Ricki from Art @Home to share my Happy List. I love, love, love looking for the silver linings and bright sides. This is right up my alley. THANKS Ricki for hosting!
1. Fresh Watermelon in January.
2. Reading old entires in my journal.
3. PTA meetings with my husband.
4. Happy Hour with Heather.
5. Chips and Salsa...made by me!
6. New TV shows about cooking.