I'm a big fan of making goals. I believe looking at your goals on a month to month basis really helps keep you on track.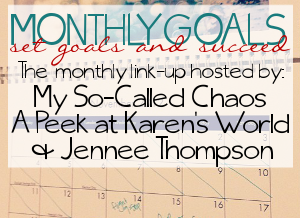 January Goals Revisited
[ ] Lose 6 pounds.
Lost 2.6
[X] Start exercise program.
Done
[X] Read 3 Books
.
Done...read 4.
February Goals:
[ ]Lose 4 pounds
[X]Make Bread
[X]
Post Smash Your Life pages
[X]Read 3 Books
[X]Write in my food journal
[ ]Run 10 times
February is a short month! I hope I can get these all done.
Do you have any goals for February?
I leave you with dear Mallory. She's bored. Maybe she should make some goals....