I'm linking up with
Emmy Mom
for 10 Things to Smile About in February AND
Ricki
at Art @ Home because this is also a Happy List. We had a great month and I really can't believe that it's almost over.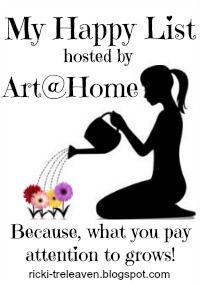 1. Mallory is devouring all kinds of reading material. A whole wide world has opened up to her....and an atlas.
2. Coffee with my kid. He had a lot he needed to get off from his mind.
3.Stacks of Magazines because I have a problem and can't stop buying them. Better Homes and Gardens wins for best cover because I put Martha Stewart back and grabbed theirs instead. I bought that one on top because it said BEER on it. Who am I, Homer Simpson?
4. Funny stickers on cars that aren't political.
5. Good Quotes.
6. Being funky and cool like my daughter!
7. Looking at old pictures of the kids. This was taken during the '
I can only crawl backwards
' phase.
8. Staples Dollar Section
9.
No Risk, Guilt-Free Pancakes
. Made with Cottage Cheese. No joke!
10. Jennifer Lawrence. She's a great actress and someone I'd love to have a beer with. BEER!
Never fear.....my Bachelor re-cap will be here this afternoon!