Joining
Impulsive Addict
and
Seriously Shawn
for another great week at Talk To Us Tuesday!
By the way....tomorrow is the big reveal of
The Book Club
! You won't want to miss it!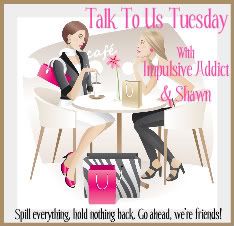 Hello Friends!
I just spent three hours of my life watching the new Bachelor and Wife Swap. I
posted my thoughts on Ben for your reading pleasure!
Drinking game is coming soon!
I do want to talk about The Bachelor for a moment. I want to address the conflict between Monica and Jenna.
I was kind of rooting for Jenna from the beginning because she billed herself as a blogger and as of yet, we've never had a blogger on the show before. I thought to myself. Jenna will be my people.
Jenna is a whiney cry baby.
But I think in some circles that's what it takes to be a good/popular blogger. Please be advised that I have never read her blog and will not link to it here because I think that's what she wants us to do.
Ahem.
Monica. Reminds me of someone that wreaked havoc on my life.
Left me tell you about MY Monica.
I met her for the first time at a Bachelorette party for our dear friend who I'll call Denise, because that's what her name is. *Monica* sat across from me and gave me dirty looks all night. You see....I was the old best friend and she was the new best friend.
Fast forward two weeks to the wedding. I'm already having a bad day because my stupid (now ex) husband is running late. We have to drive 75 minutes to south Denver (from Greeley) to get his tux before the wedding AND we have to pick up my dress on Federal because it didn't fit when I went in for a fitting.
We get to the wedding and my dress still doesn't fit and I had to be sewn into it.
Fast forward 6 hours later and I'm trying to get my (now ex and drunk) husband to leave. I'm having a conversation with him and she is copying me behind my back. Keep in mind I've barely had any kind of conversation with HER. I ask her to stop and she mocks me.
Fast forward 2 months. My friend Denise tells me that they are hiring a receptionist where she works and I should apply and leave my stupid (now ex) husband. Only problem....*Monica* works there too.
I decide that I'd rather deal with immature stupid *Monica* than my stupid immature (now ex) husband and I apply for the job.
I get the job, and months later.....*Monica* and I become friends. Very good friends.
Fast forward three years, *Monica* is now my boss. We both join eHarmony and I meet the love of my life in two weeks.
Note: *Monica* is still single to this very day.
Fast forward two more years. I'm married, my lovely husband has bought me a new Murano and a HOUSE and I've just announced that I'm pregnant.
*Monica* has me fired for my inability to get along with employees just two months after she's given me a glowing review and a raise.
What the heck is *Monica's* problem. Was she jealous? Immature? Mentally Ill?
I say that she is/was all of these things. And so
is
this Monica. I also think they two of them are still on the show for ratings alone.
Also....I texted IA tonight during the show to tell her that I'd share tampons with her in California. I don't think we'll be sharing a room anymore.....
As for
Wife Swap
?
I feel so badly for Carnie Wilson. Her husband is a selfish a-hole and she is uninvolved in his and her children's lives. Also....Aunt De De needs to work on her housekeeping because I would have walked out right after walking in. Tracy Gold showed great courage staying in that house.