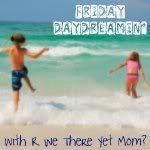 I have been in the worst mood this week. I blame January and all of it's super long days and cold bitter winds. It's so bad that I left the house yesterday in yoga pants and a pony tail! THE HORROR!
The only good thing is that I have TWO trips to California to look forward to. Yes, I'm a lucky girl!
One of my trips is with my
6 best friends
to this location.
My second trip one month later is to this location.
my in laws house
I'm sure you can guess which one I'm daydreaming about??