This month's winner is Jessica from Raising Z!
I am very excited to announce that my friend
Mimi from Living in France
has agreed to start a new venture with me. As you know.... I love books and reading and Mimi shares that love with me.
I had an idea to start a book club with my family members and then I remembered that most of them are lame (not you Mom....I have you to thank for my love of reading!) and I'd just end up disappointed.
The next logical step was to invite my friends to have a book club!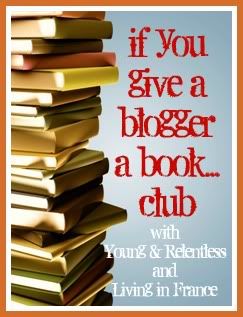 Here's how this is going to work.
*Get the book, join our facebook group and follow us on twitter.

*Join our discussion on facebook . You don't have to write and link up a blog post unless you really love the book and want to share it with your readers. You have six weeks before the next book is announced!

*Mimi and I will write up a post of our thoughts about the book at our book club website, so if you aren't on facebook and would like to talk about the book you can.
I will be giving away one copy of each book
.
Just leave me a comment
(make sure that I have your email adress so that I can contact you)
before Friday, January 6th at Midnight.
The Winner will be announced Saturday morning at
If You Give A Blogger a Book....Club
and on the facebook group.
This months book is:
This is the story of Rachel Bertsche and her quest to find a new BFF after moving to Chicago with her husband. She goes on 52 friend dates and explores the reasons that we click with some people and not with others.
So what are you waiting for? Join the club!