My dear friend and role model for PTA President,
Becca from R We There Yet Mom
, wants to know about the places that you LOVE!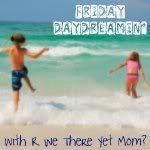 I was going through a box of photos the other day and found family pictures from when I was in junior high school. It was spring break 1985 and we were in Lake Powell! Twice during my teen years, we visited Lake Powell and rented a houseboat.
I'm obviously not going to make it on the boat. Can someone give me a hand? As you can see...eons before blogging was invented, parents took pictures of their kids in a predicament BEFORE helping them.
This must be where I got my love of visiting places in the OFF SEASON because a year later we'd visit Lake Powell during Thanksgiving. It is cold in November and March but the prices can't be beat! You also have the entire lake to yourself!
Here we are in a dinghy. It's windy and my hair is getting messed up and those are my actual sunglasses and yes, my pink collar is popped. The 80's were very good to me.
I have amazing memories from these trips! I spent hours and hours reading, eating oreos and drinking hot tea. I also spent hours practicing my cheers because I was going to try out for cheerleading and I wrote GREG AND CONNIE in the sand every chance I got. Sadly, Greg never loved me back......