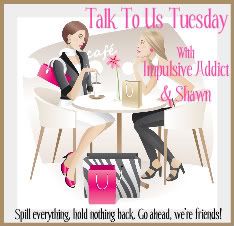 This week is already on my shitlist and it's only Tuesday. Yesterday, my son who was sick all last week woke up crying because his ears hurt. A trip to the doctor confirmed that he has a very bad ear infection. I also paid a $30 co-pay to have them check out my daughter who was also sick last week. She's fine.
I just checked the What People Googled to Find My Blog list and found that someone has a burning question that only I can answer.
What happens when you put a tampon in the wrong hole.
The answer is.....it becomes a plug.
Speaking of things that don't belong. Remember the little story I told you on Thursday
about an altercation I was in
? I checked my calendar and I'm volunteering in the classroom with that woman on Friday.
Awkward!
Saturday night I went on a date with my husband. One of his co-workers is competing to be
Denver's Next Improv Star!
We tried to get a drink (or 3) and a bite to eat at 5 different places. We got turned away over and over because everyone and their dog was eating dinner downtown that night. We did get a table at a place called CRAVE but it was a bar that served cake and I didn't think that was the best place to take a diabetic for dinner.
We raced all over downtown and finally ended up at Rock Bottom Brewery. I found the irony. We had reached Rock Bottom in our choices. Did I mention that all of this happened while Keith's boss with us?
We had a burger and drinks and listened to Dan tell us fascinating stories about Steve Jobs. And knowing me and how inappropriate I can be....I told him he should lay on our table so we could turn the beer tap on straight into his mouth. He said that he didn't get where he was by laying under things. I told him that I'm exactly where I am by laying under things. And then I called Keith my Sugar Daddy.
Once we were in our seats at the improv show....we smelled something.
Something bad
. I did what I always do when I smelling something bad and I told twitter.
The guy behind me....was reading my phone over my shoulder and told me it wasn't him. And asked me to retract my tweet.
Guy behind me who DID NOT FART took to twitter to make sure the world all 12 of his followers knew and included a picture of the person who he thought was responsible. That person is my husband's boss.
I laughed so hard that I peed my pants! And the show hadn't even started yet! I am now twitter friends with Michelin. So now he has 13 friends.
The show was very funny and our friend made it to the next round.
Good Luck Break Your Leg Lindsay!