It's Tuesday! I'm listening to my My Sharona and biting my lower lip. It's also time for me to chat with
Impulsive
and
Shawn
for Talk To Us Tuesday. I will be hugging these ladies necks in.....16 Days!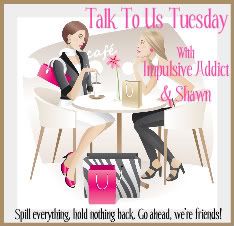 Yesterday, I showed you my gifts for the staff at my son's school. They were a HUGE hit! I'm such a sap that I almost started crying when my little boy was giving his gift to his Principal. We are so blessed to have a fantastic, tender hearted Mom leading our school. She makes the kids feel like a million dollars!
As we were walking to his teachers' classrooms I did start to cry. His Kindergarten teacher is a young woman and she's been out for a month on medical leave. This was supposed to be her first day back and I was anxious to see her.
Erick loves her and has missed her terribly.
She wasn't there. Instead, a young man that looked like he was about to head into the lions den. I supposed the prospect of teaching twenty 5 and 6 year olds will do that to you.
This stopped my tears immediately, but they would return later when I found out that our teacher is not coming back this year and won't be teaching Mallory next year.
So, I was equally bummed to realize that she wouldn't see what my friends and I had done to her door.
I need to take a minute to tell you about these ladies. I had hoped that I'd make some Mommy friends this year, in fact, I'd prayed that I would.
God just loves to answer my prayers because these gals right here are the best! They are crafty and overachieving just like me and I think in a few years we'll be running that school.
This is what we came up with for the door.