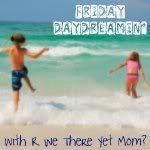 My in laws live in a tiny town near Fresno. We left LA and google maps told us the most direct way was to take why 99 just outside of Bakersfield. It ran slower than the interstate but it's really a pretty drive because now....you are in farm country!
We started seeing signs for
Bravo Farms
a couple miles out and it implored us to stop. But we were in a hurry to see the grandparents so we decided we'd try to come back another day for lunch.
SO glad that we did!
From the outside, Bravo Farms just looks like a small restaurant in an old building. You will be shocked when you step inside because you will be transported back in time! This place has four wings that form a square with a big courtyard in the middle. The courtyard is so freaking cool that you won't believe your eyes.
It has a multi-story treehouse.
There are antiques everywhere!
And chickens, a turkey and billy goats.
It also has a back porch with more antiques.
The kids loved this old milk truck!
One wing contains the restaurant and an ice cream shop. We ate lunch on the front patio not realizing there were a bunch of picnic tables in the courtyard. At this point....we had not yet
found
the courtyard!
The nachos were great! And the salsa they bring to the table is spicy and fresh.
Another wing showcases the cheese that Bravo Farms makes. I love cheese and this was some of the best I've ever had. I selected the Cabernet Cheddar, Dutch-Style Gouda and White Cheese Curds. Some of these cheeses can be
ordered online
. For more about what we ate on our trip....visit
The Rookie Foodie
.
This little store also had chocolate, nuts, jam and other specialty food. And it serves as a gift shop with toys, knick knacks, books and housewares.
Such a hidden gem and a definite highlight of our trip!
Bravo Farms
36005 Hwy 99
Traver, CA 93673
1-866-898-MILK
Hours:
The Shoppe and Cafe 7am-7pm daily
Cheese Factory 8am-5pm Mon-Fri
Linking up with Becca at
R We There Yet Mom
?