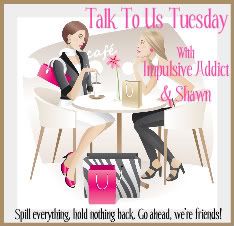 Happy Tuesday! It's that time of the week to chat up
Impulsive
and
Shawn
. You can tell them ANYTHING...there are no rules.
How would you like to pictures from my son's LEGO Harry Potter Birthday Party! You would? Great!
Let's start with.....The Invite.
Our original theme was going to be LEGO. Then when I was taking pictures for the invitation, Alex brought me some LEGO people to be in the picture. And a theme was born!
I have to tell you....my cake designer, Gemma from
Bella Stella Bakery
was very excited about our theme and I think she did a fantastic job!
There is a Ron on the cake also but he didn't make it into the picture. Alex wanted chocolate cake and chocolate frosting and it was delicious!
I purchased the goodie totes at Target in January! I was so excited to find them and figure out what to fill them with. We went with pencils, balls, playdoh, bubbles, a chocolate frog and a candy bar with a cool wrapper from
here
.
The kids had a blast building LEGOS together and there was a bit of naughtiness going one because Alex had just asked a beautiful blonde to be his girlfriend the day before and then he kissed her best friend at the party.
Mallory has a HUGE crush on the boy in the tie-dyed shirt and my sister Bobbi was her wing man. You have not lived until you are the wing man for a 5 year old.
The party was a huge success! But it wasn't without it's mishaps.....mostly from me.
Things Not To Do at Your Child's Birthday Party
Allow random children from your apartment complex to crash the party.
Drink too much wine and allow the guests to take home all of your children's LEGOS.
Drink too much wine and present your son's discarded underwear to the guests...ala Sixteen Candles.
Try to get your guests to pay you a dollar to see the underwear....after you already showed it to them.