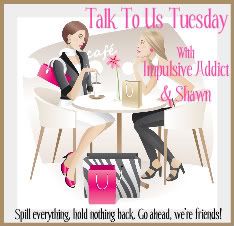 It's Tuesday....so it's time to air my dirty laundry. I don't know what it is about
Impulsive Addict
and
Seriously Shawn
...but they make me what to tell secrets. I hope they don't ask me to play Truth or Dare when I share a house with them next month. ONE MONTH PEOPLE!
So...on my fabulous vacation, after visiting a bunch of cool places (that I'll tell you about later) we spent a few days with my in laws in a tiny little town in the middle of fruit country. As far as the eye can see....fruit trees. The little town DOES have a Starbucks and a Jack in the Box so it's not a total loss.
My brother in law
that you don't hear much about
, lives with my in laws. He graciously gave us his room and stayed in a crappy little hotel a few miles away. This was a great plan because my father in law started handing me a glass of wine at 2 o'clock in the afternoon each day.
On our last night, I was sitting in bed reading Fifty Shades of Grey (!) when I looked up at the curio cabinet and thought I was hallucinating. I saw this.
Siegfried and Roy.
Suddenly all of the white tiger figurines made sense! And yes....that is a feather boa in front of the picture.
And yes. He's gay.
GOSH! I almost forgot to mention.....The Book Club is back tomorrow with our next book announcement. I'll be giving away ONE copy so make sure to come back tomorrow because I close the entries on Friday Night.