Hey friends! I can't believe it's Tuesday. I've been sick since Thursday afternoon and lost all track of time. I'm linking up with my friends
Impulsive Addict
and
Seriously Shawn
for Talk To Us Tuesday because I need to get this massive To-Do list off from my chest and I need some cheerleaders to get me through it.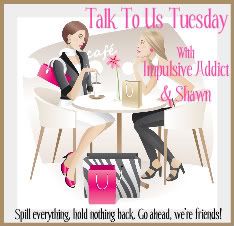 First of all. Kindergarten is killing my family! Alex and I have both been sick for 6 days. He is finally going back to school today and I feel a little more human. We missed a friend's 6th birthday party and iKeith's Christmas party at the Denver Art Museum. Although...I think Keith isn't too upset about that
because he can't take me anywhere without into some trouble
. I think the party was probably pretty boring without me there.
The Kindergarten Holiday Party (but not a CHRISTMAS party) is on Friday. I somehow volunteered to do the following.
Purchase goodie bags
Make cookies and frosting for the kids to decorate
Make homemade Marshmallows and Hot Chocolate Balls for the goodie bag
Photograph the party
I've been trying out recipes for weeks and sharing the results with the ladies on the party committee which earned me the label.....
The Martha Stewart of Kindergarten
.
You know I love it!
I've got a few things done on my to-do list which I will include on this list and then immediately cross off because DAMN IT THAT FEELS GOOD!
Make cookie dough
Make Hot Chocolate Balls
Make Marshmallows
Make Cookies
Make Frosting and frost 15 cookies
Wrap book for party
Get gifts for teachers and deliver them
Assemble Marshmallow/Balls for goodies bags
Deliver goodie bags and balls to Susan
Mail packages
Drink a bottle(s) of wine that my parents sent
Attend PTA meeting
As if this all isn't enough for me to do......I am also taking care of Robert's cat every day for the rest of the month, because he had to fire his housekeeper because she borrowed his Keurig while he was out of town.
I think I should open the wine now.