Becca from
R We There Yet Mom
is changing things up this week and having a Halloween theme! Post your favorite or memorable Halloween picture!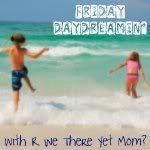 iKeith and I had been dating for roughly 4 weeks when he invited me to his friends' annual Halloween Party.
Of course I picked out our costumes without consulting him.
We had a lovely time making out in the corner...causing quite a stir. And we ran into my sister who was dressed as a hooker. We tried to save her....
Sister Mary Connie