I'm daydreaming today about seeing the fall colors last weekend! Aspens turning are one of the most beautiful things I've ever seen!
This picture was taken from our room at The Ameristar Resort and Casino. I wish I was there right now, enjoying a spa treatment or sitting on the 32nd floor patio with a drink in my hand!
Instead....I'm freezing my badonkadonk off and my daughter is throwing a fit while her cereal gets soggy.
Ameristar.
....take me away!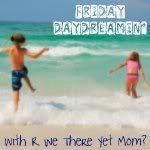 Are you day dreaming about a trip you've taken? Link it up with Becca at
R We There Yet Mom
!