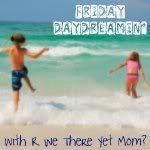 I promised you another Friday Daydreamin' vacation picture and I know you all have been waiting with bated breath for it. (
what does that even mean?
)
Two years ago, I went on a Family Vacation with ALL of iKeith's family. We rented a house on the lake in Wisconsin were Keith's Dad grew up. We had a great time seeing all of his old hang outs and hearing stories about his childhood.
iKeith couldn't wait to show the kids one of the docks on the lake.
This little beauty has been here for many years! Isn't she pretty?
This week....I'm daydreaming about
Lake Okauchee
!
Do you have a vacation memory that you'd like to share today? Becca at
R We There Yet Mom
? is waiting for your post.