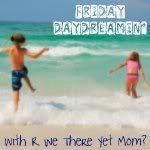 It's Friday so that means it's time to do a little daydreamin about vacations past! I thought that I was out of fun vacation pictures but I was soooo wrong. I found TWO but you don't get to see the other one until next week.
Once upon a time, two years ago this month. A little known blogger with
no
a small following went to her first blog conference. A little thing called
Sitscation
which has now morphed into the fabulous and amazing
Bloggy Boot Camp
!
After a long day of listening to many inspiring people talk about blogging...this little blogger needed to burn off some steam. She had a couple beers and when she was walking back to
The Venetian Hotel
....this happened.
The Rock is a lot hard than you would think. And please notice where he has his hand!
This week....I'm daydreamin' about Vegas Baby!
I know you have a vacation picture you can share! Link up with Becca at R We There Yet Mom!