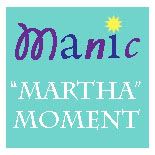 It's time for another Manic Martha Moment with
Manic Mother
! Today I am pulling a craft idea from the archives. Last August, I became Manic and Panicked that the summer was passing us by and we hadn't done much of anything. I concocted something I called, Fun Extravaganza and we did fun crafts and activities for a couple of weeks until I burned myself out. LOL! Click
HERE
to see all of the stuff we did.
We love to send (and receive) Mail so I made some postcards from cereal and other boxes. Alex and Mallory colored on the back....we love sharing our artwork with our family!
All you need to do for this one is cut your cereal/pizza/snack boxes into 4 inch by 6 inch rectangles and with a Sharpie marker, draw a line down the center on the blank side. Draw a picture or write a message on the left hand side and the address of your recipient on the other side. And a post card stamp is only .28 cents!
By the way, did you know that postage went up 2 Cents yesterday? It now costs .44 cents to mail a letter!
I bought
Martha Stewart's Encyclopedia of Crafts
last week. I like a lot of the ideas in the book but most of them fall under the category of
things I'll probably never make
. However, my taste in crafts tends to change every couple years and I always keep my Martha Books so I could end up making some of them. It also makes an excellent door stop!
EDITED: My sister spent the night with Jen Lancaster. Go
HERE
to check it out. I'm so jealous!!