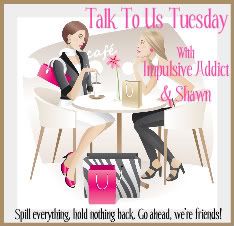 Happy Tuesday! My son is on Fall Break this week so we are being lazy and watching lots of movies. Today, I want to talk with you and
Impulsive Addict
and
Shawn
about planning for Christmas.
1. When shopping for presents for your friends and family....always throw something in for yourself. A pair of gloves here, a sweater there....especially when they're on sale. You work hard to win Christmas and you deserve nice things.
2. Make lists and check them thrice.
gift ideas
gift lists
menu ideas
actual menu
grocery list
christmas card list
things to do
holiday activities
3. Keep a detailed calendar with school events, family activities and deadlines for getting things done.
4. Buy wrapping paper as soon as something catches your eye. This will be your color theme for the year.
5. Buy LOTS of tape. You can never have too much.
6. When shopping for gifts, if all else fails....buy the person on your list Starbucks or Target gift cards.
7. Download the GLEE Christmas Album.
8. Mail your out of town packages early....you will beat the crowd and save your sanity.
9. Don't over schedule your holiday. Pick a couple fun things and spread them out through the month of December. Allow for plenty of downtime....hot chocolate drinking and movie watching.
10. Buy Hot Chocolate, Marshmallows and Wine in bulk.
If you plan ahead and shop early.....you can relax and enjoy the holiday with your family!
Connie's Christmas List
Silpat Mats
A Waffle Maker
Knee High Boots that fit
Elementary School Peace
A Coach Hangbag
Cheese
A case of red wine
A lifetime supply of K-Cups
Gluten Free Cookies
Are you addicted to Pinterest and need a Pintervention? Check out what I made here.