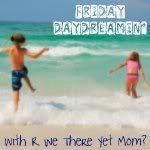 Linking up with
Becca from R We There Yet Mom
for Friday Daydreamin'!
In 2002, I lost a bunch of weight and decided that I was going to be athletic. When my friends talked about going White Water Rafting in the mountains of Colorado....I said Heck Yeah!
Who can go wrong with a place called
Good Times Rafting
?
My friends on this trip were my very hot friend Sean (seated in front of me) and my two best friends.
We stayed a couple nights in Winter Park and I might have danced on a bar and sang
Rocky Mountain High
.
The rafting part of this adventure was really fun and exciting but the best part was when we got to a section of the river where we pulled over, hiked up the hill and jumped 30 feet into the river.
YES! I did this! I had just gone through a bad divorce and I imagined that I was leaving my old life at the top of that cliff and jumping into my new life where all of my dreams were going to come true.
And they did. A year later....I met iKeith.
Smiley face to protect former best friend who became my boss and had me fired when I was 6 weeks pregnant with Alex because she was jealous of me.