Happy Tuesday! Did you watch The Bachelorette last night? I'm crushing hard on a guy with a head injury named Charlie! There are some interesting men on the show and I think it's going to be a great season.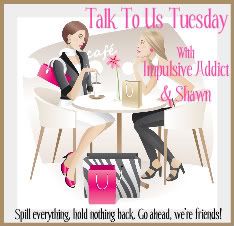 I'm joining
Impulsive
and
Shawn
for Talk To Us Tuesday to tell you about one of my favorite parts of our Huntington Beach trip. Impulsive Addict has done a fantastic recap of the first couple days
here
.
On Saturday, we drove to Hollywood and
Vivienne
showed us around.
Our ultimate destination....The Ivy Restaurant on Robertson Blvd.
Our table wasn't ready yet, so they gave us Champagne cocktails. We felt soooo very special and I think some people thought we were somebody.
Becca
always look fantastic when she is holding a glass (or bottle) of Champagne!
Jen
decided to go to The Ivy as Betty Draper.
The food....was amazing. I will dream about my meal for years to come. Becca licked my plate clean for me. I also had a sip of The Ivy Gimlet and can't wait to make one at home.
I had to try the coffee and we had a couple desserts that we passed around.
I loved the flowers on our table and the ambiance on the patio.
Such a fun day!