I'm linking up with
Impulsive
and
Shawn
because I have to tell you that I have seen the light!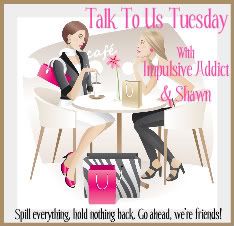 I like to think that by this age, I know it all. I've lived a long hard life and all the lessons I need to learn have been applied and well noted. Well.....I was wrong.
I went away to Black Hawk for the weekend with my family and Robert (my brother husband). While they were checking us in...I ran to the Starbucks in the casino and got drinks for everyone. When I got to my room, I was informed that Robert had arranged for me to go to the Spa and have a massage. AWESOME!
I was given a tour of the spa, shown where I could sit and relax with a glass of cucumber infused water and where I could soak my naked body in front of a bunch of other women....then instructed to strip down and slip into the most luxurious robe I've ever experienced.
There were a couple of other ladies in the locker room with me and this is when I realized that I was not wearing the most attractive panties that I owned. I was in fact wearing the most ratty pair.
LESSON LEARNED
:
Never wear ratty underwear. You never know when someone will buy you a massage and you'll need to strip down in front of other people.
My husband has been taking pictures of me lately. I don't know what's gotten into him but I was going through his pictures last night and found several photos of me....with my phone in my hand.
UGH! What the heck am I doing? Checking twitter and Facebook for the hundredth time?
LESSON LEARNED
:
I need to put the phone down and enjoy my life!
The last picture of me sitting next to my daughter brings me to my next lesson learned. On the way home from Black Hawk, we left early in the morning without eating breakfast. Alex ate a granola bar and Mallory ate an apple but the adults were waiting to go to Denny's.
We drove down the winding canyon and as we were coming out of the mountains and were about 10 minutes from home.....Mallory said she had to throw up.
I told her she didn't. And then she did. I caught most of it with my hands but Robert's BRAND NEW CAR now has vomit in it.
LESSON LEARNED
:
If Mallory says that she has to throw up.....PULL OVER!
I watched The Bachelor last night and just as I suspected. Ben picked Courtney.
sigh
I knew it was coming because I have used the same tactics to get a man. Men can not think with their big head when you control their little head. It is a proven fact!
I do think that Courtney is sorry for how she treated the other women but not because she is a nice person that good things happen to, but because she is the most hated woman in America and Ben stopped talking to her for a month when he saw how horrible she was on the show.
LESSON LEARNED
:
I've been watching this show for 10 years and it's the worst piece of garbage on television. STOP WATCHING IT!
What lesson have you learned this week?