I'm joining
Emmy
today to give you 5 thoughts and 5 pictures. It's been a crazy, fun, busy and disappointing week. I feel like I'm on a roller coaster and I'm about to throw up!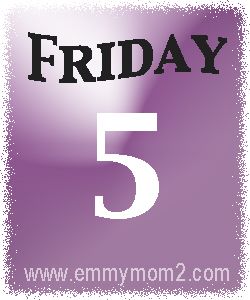 1. I am so happy that we finally found a babysitter. Keith and I have been on a bunch of dates the last few months and we have another one planned for next month. Keith also started a new job three weeks ago and he is 7 minutes from our house!! I can stop by for lunch and coffee anytime I want.
2. It was a great week for fun because I deliberately made the time for it. Several weeks ago, I invited 25 of my closest Mom friends to see Girls Only with me. Eight of them showed up and we laughed until we peed! I even got called up on stage to interact with the cast. So much fun! We're planning our next Mommy Field Trip to the Coors Brewery.
3. I wish more people got as excited as I do about volunteering at school. I love planning things for the kids and helping to provide ways for the kids to socialize. We are not a neighborhood school so our kids are scattered all over the district. Things like LEGO Club are great for making friends. And I wear silly hats.
4. Speaking of PTA. I have to keep reminding myself that I'm making a difference in 617 children's lives and that people will let me down but I have to keep going because what I do is important. Thank God for my VP. I couldn't do this without her!
5. I wish I could explain why I'm terrified of going to the hair salon. Every March, I just can't take it anymore and I get my hair cut. Yes. Once a year, I cut my hair! I love how it looks after so I don't know why I don't do it more often.
Good People at The Curious Theater
Girls Only at Garner Galleria Theater
LEGO Club
Fundraiser Prizes
Real Housewives Hair