Did you have a great Labor Day weekend? We sure did! We got a call Thursday night that the AC at school was broken and we didn't have to go to school on Friday. FOUR DAY WEEKEND!
That made me happy.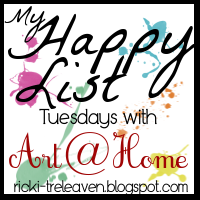 My dear friend Helle left Denver for Romania. She'll be there teaching for the next 10 months. You many remember her as my friend from Denmark that taught me how to make Rise Pudding. She was visiting Denver for 2 months and I got to spend lots of time with her. She even taught me embroidery! We spent a day shopping and eating Pho before she left. I'll miss her so much!
Winning a bet makes me happy especially when it's with my kid that didn't think you could find Candy Corn for sale in August!
Friday Night, the kids and I took the train downtown and met up with Keith and then we went to The Taste of Colorado! It was so much fun...we saw Dennis DeYoung in concert and watched fireworks and ran into my cousins!
Sunday, we went to Elitch Gardens and had the best time riding rides! My parents used to take me to Elitches when I was a kid...so fun to continue the tradition.
Cup holders in my car make me happy. As well as the two things that it was holding at the same time. No worries....I didn't open the wine until I got home.


I found two new groups to join this week and they both have hashtags. Have I ever told you how much I love hashtags? #Ido
I've joined the
Planner Addicts Photo Challenge
AND Facebook page and then I also joined the
#30Lists
folks with their challenge of making 30 lists in 30 Days. You KNOW that I love lists...and my planner. Let the games begin!
What are you happy about this week?